An Offer You Can't Refuse
Talk

0
435pages on
this wiki
An Offer You Can't Refuse

Level

Part II, Chapter II

Previous Level

Next Level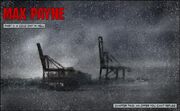 An Offer You Can't Refuse is the second chapter of the second part of Max Payne, when Payne is assigned to find Boris Dime and his ship, Charon.
After escaping Lupino's Hotel, Max runs into Vladimir Lem who needs Max's help in exchange for some firepower, so he can later storm the Punchinello Manor.
Max is dropped off at the docks at the Brooklyn riverfront where he is instructed to kill a traitor in the Russian Mob and retrieve a shipment of cargo.
Max kills the guard at the gate and enters the premises. He makes his way through many werehouses and through many alleyways of stacked shipping containers, until he reached a closed off bridge, leading to the next section of the dock.
After seaching a shipping container, he finds a sniper rifle, and evidence of a hit on the mayor. Max makes a truck trailer roll into a raised bridge to crash into and lower it. After climbing across and getting into the next werehouse, the next chapter triggered: With Rats and Oily Water.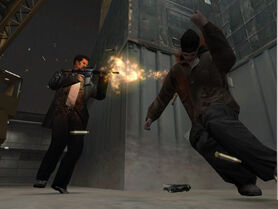 On the PS2/Xbox version, this level is divided up into three levels:
An Offer You Can't Refuse
,
Cold and to-the-Point
and
Family Troubles
.
Enemies Encountered
Edit
Other Character Appearances
Edit
Walkthrough
Edit