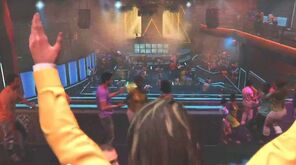 Club Moderno is a nightclub in São Paulo, Brazil. Giovanna Taveres, Fabiana and Marcelo Branco often goes to the club.
In 2012, Fabiana, Marcelo, and Giovanna flies to the club after a failed kidnapping attempt in the preceding day. The three are guarded by Max Payne and Raul Passos. During the party there, the Comando Sombra assaults and tries to kidnap both Giovanna and Fabiana. Max fights several CS members and is able to rescue Giovanna, but not Fabiana.
Appearances
Edit
The song that plays during gameplay is Full Power by AC Slater
Ad blocker interference detected!
Wikia is a free-to-use site that makes money from advertising. We have a modified experience for viewers using ad blockers

Wikia is not accessible if you've made further modifications. Remove the custom ad blocker rule(s) and the page will load as expected.