Cold Steel
Talk

0
434pages on
this wiki
Cold Steel is a factory, warehouse and an underground bunker complex owned by Aesir Corporation. It is the place where valkyr is secretly produced and experiments with it are conducted on human subjects.
Characteristics
Edit
The plant maintains a front as a steel foundry but many heavily armed professional mercenary commandos guard its area. Apparently, no steel is actually cast in the plant and no plant workers are seen present at the factory (at least during the 2001 winter night of its attack, see below). There is an elevator marked "D-6", located somewhere inside the premises, that leads down to the secret bunker containing a research laboratory and cells where the test subjects are kept.
In 2001, after surviving a valkyr overdose following his assault of the Punchinello manor, Max Payne breaks into Cold Steel via a skylight in search of Nicole Horne. Payne kills many mercenaries and Killer Suits along the way and makes it to the secret complex via the elevator D-6.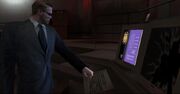 Once the mercenaries become aware that the facility has been breached, they begin "Operation Dead Eyes" in which they start the self-destruct mechanism to destroy the building and any evidence that were present in it.
Inside the lab, Payne discovers computer files revealing that his family was killed because his wife accidently found out about Project Valhalla which prompted Horne to send valkyr test subjects to the Payne residence as both a "field test" of their capabilities, and as a hit squad to kill Michelle Payne.
After realising that Nicole Horne is not present in the building, Max Payne makes his escape just in time as Cold Steel explodes behind him.
Occupants
Edit
Appearances
Edit