Ragna Rock (location)
Talk

0
434pages on
this wiki
Ragna Rock is a gothic nightclub and the operational base of the valkyr baron Jack Lupino in 2001. Here, Max Payne kills Lupino and meets Mona Sax for the first time.
Some time after the 2001 events, Ragna Rock is sold to Vladimir Lem. Lem renames his new club to Vodka.
Characteristics
Edit
The exterior of Ragna Rock seems to be like that of a church.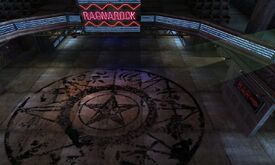 Upon entering the building from the outside, Ragna Rock features an immediate lobby with a small security booth and a ticket counter, in which club entry tickets can be purchased. The main open space of the club houses a disco dance floor, its surface decorated with a satanic pentagram in a double circle. The area is outfitted with sound systems playing rock music, lit with various disco laser lights of changing colors and has pyrotechnics installed, capable of producing smoke and fireworks, effects that can be triggered from a control station overlooking the area. A bar is adjacent to the dance floor. A red curtain covers the stage where drums, guitar and a microphone indicate a live band would perform. Facing the stage and over the dance floor is a large balcony with many seats.
Behind the backdrops, the interior of Ragna Rock is mostly made up of wood and contains rooms heavily guarded by Jack Lupino's men. These include a gun armory, a reading room filled with various occult literature, a wine cellar, as well as small stairwell towers leading all the way up to the roof of the structure. Behind the nightclub stage, there is a spacious area with huge flats affixed to a fly system, which one can move manipulating levers from the control area. Behind the flats are stairs leading to the inner sanctum of Jack Lupino himself.
Lupino's lair
Edit
Jack Lupino's chambers contain a study room with sofas and a table; a lectern is situated in its center while another pentagram is painted on the floor, all of them surrounded by tall candlesticks with burning candles. On the night of Lupino's last stand, empty beer bottles and more books about Satanism cover this area. Dead men of the Mafia underboss are aligned around the pentagram with their hands tied behind their back, indicating they most likely have been killed and sacrificed in some kind of a religious ritual.
The study leads to a vast ceremonial grounds area. Surrounded by red tattered curtains, with their walls being lined by tables bearing the weight of loads of weapons and ammunition, the grounds are facing their center piece - a podium with an altar, situated below a grand stained glass window shaped in satanic ornaments.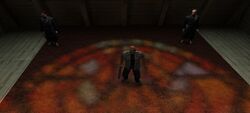 In 2001, during his revenge vendetta, Max Payne enters Ragna Rock looking for Jack Lupino. He finds the club closed and fights through heavy security all the way to Lupino's den, cutting short a valkyr sale deal being made and leaving a trail of dead thugs in his path. Once in Lupino's sanctum, Payne battles waves of the Mafia underboss' elite men who were intending to ambush him throwing Molotov cocktails at him from the upper floors and jumping down to shoot their mortal enemy. With his minions wiped out, finally Lupino himself makes his last stand against Payne, but not after he delivers a passionate, valkyr-hallucination-induced speech worshipping his demons. Max Payne fills the gangster's body full of bullets.
Moments later, the fugitive meets Mona Sax for the first time. The female assassin reveals to Payne that Angelo Punchinello, the boss of the crime family Lupino belonged to, was behind the plotting of his family's tragedies. Max Payne learns that Sax is after Punchinello herself and suggests "pooling their bullets" for the cause, however, the glass of wine that was meant to seal their alliance is spiked with a hypnotic by Sax which renders the man unconscious.
Some time later, Frankie Niagara and his goons find the incapacitated body of Payne at Ragna Rock and bring him to the basement of Lupino's Hotel for torture.
With the nightclub's owner dead, Ragna Rock is sold to a rival criminal organization: the Russian Mafia's Vladimir Lem. Lem renovates it and turns it into a luxurious restaurant, but, likewise, uses it as a staging area for his own criminal aspirations.
See Vodka for further details
Behind the scenes
Edit
The "Ragna Rock" nightclub is a reference to Ragnarök, a "final destination of the gods'" perceived by Norse Mythology. Ragnarök is a doomsday: a series of major events, including a great battle foretold to ultimately result in the death of a number of major gods, the occurrence of various natural disasters, and the subsequent submersion of the world in water.
Appearances
Edit