Roscoe Street Station (chapter)
Talk

0
434pages on
this wiki
For the achievement in Max Payne 3, see So Much For Being Subtle (achievement).
Roscoe Street Station

Level

Part I, Chapter I

Previous Level

Next Level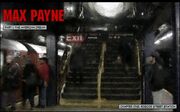 Three years after the murder of Max's family,
Max
arrives at
Roscoe Street Station
to find that it's closed down; after investigating he finds some dead security guards. He then has to shoot his way past
the Mafia
to find his friend
Alex Balder
.
He manages to save a guard who then helps him past a locked door, but is immediately killed by a mobster.
Max eventually arrives at an unused part of the subway, which starts the next level: Live from the Crime Scene
On the PS2/Xbox version, this level is divided into two levels: Roscoe Street Station and So Much for Being Subtle.
A Transit Cop seconds before getting killed by a mobster

Roscoe Street Station: platforms, control room...
Enemies Encountered
Edit
Other Character Appearances
Edit
Walkthrough
Edit
Down the stairs, past the first goon with a shotgun, turn right into a locker room. Follow the corridor and to the right is a locked door that says 'Maintenance' on it. The door can be opened by shooting a can canister under one of the lockers. Inside is a Desert Eagle with plenty of ammo.