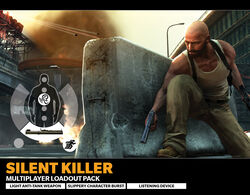 Silent Killer is a Max Payne 3 multiplayer loadout pack which was available to players in Europe and Australia that have pre-ordered Max Payne 3.
New Features
Edit
Role in multiplayer
Edit
As the name suggests, the pack appears to add stealth elements to players' multiplayer play style. However, the Light Anti-Tank Weapon is not exactly a silent type of weapon.
Silent Killer was a pre-order bonus, this can now be purchased on Xbox LIVE for 160 Microsoft Points or on PlayStation 3 and PC for $2.
For Max Payne 3 Rockstar Pass holders, this pre-order bonus is free of charge via the ingame marketplace option. DO NOT purchase this content from elsewhere or you will be charged again.
Ad blocker interference detected!
Wikia is a free-to-use site that makes money from advertising. We have a modified experience for viewers using ad blockers

Wikia is not accessible if you've made further modifications. Remove the custom ad blocker rule(s) and the page will load as expected.