Timothy Gibbs
(born April 17, 1967 Calabasas, California, U.S) is the character model for
Max Payne
in the
Max Payne 2: The Fall of Max Payne
game.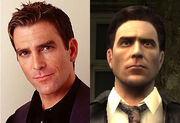 He has starred in various soap operas, including Another World, One Life to Live and Santa Barbara.
He began his career as a child actor in the television series Father Murphy in 1981.
Gibbs currently owns Jefferson Rilke Hopper Davis, a construction company in New York City. His brother is actor David Gibbs.
Filmography
Edit
11-11-11 (2011) - Joseph Crone
The Kings of Brooklyn (2004) - Sentor
Season of the Hunted (2003) - Steve
Sex and the City (2000) - Detective Stevens
One Life to Live (1998-2001) - Lt. Governor Kevin Lord Riley Buchanan
Another World (1995-1998) - Gary Sinclair
Witchboard 2: The Devil's Doorway (1993) - Mitch
The Get-Along Gang (1984) - Catchum Crocodile
The Rousters (1983) - Michael Earp
Father Murphy (1981-1983) - Will Adams
Goldie and the Boxer Go to Hollywood (1981) - Artie
External links
Edit
Ad blocker interference detected!
Wikia is a free-to-use site that makes money from advertising. We have a modified experience for viewers using ad blockers

Wikia is not accessible if you've made further modifications. Remove the custom ad blocker rule(s) and the page will load as expected.