Wilson Da Silva
Talk

0
434pages on
this wiki
"I'm only a cop, Max."
―Wilson Da Silva, 2012
Wilson Da Silva


Biography
Family
Unknown
Relationships
Max Payne (friend/ally)
Armando Becker (Archenemy/rival)
Victor Branco (Archenemy)
Affiliation
São Paulo Police Department
Occupation
Police detective
Weapon
M1911
PT92
Location
São Paulo
Technical
Voice actor
Stephen Girasuolo
Performer
Stephen Girasuolo

Wilson Da Silva is a police detective in the Sao Paulo police department. He investigates gang activities, and actions of the Unidade de Forças Especiais unit. Da Sliva becomes Max Payne's ally and friend during the later's quest to take down the Crachá Preto gang, and the UFE unit.
A rather cynical, yet serious member of São Paulo's police force, Da Silva starts to investigate the disappearances of many people in the city, as well as investigating the UFE's involvment in the case through the actions of his rival and enemy, the head of the UFE, Armando Becker.
Following their second meeting at a strip club in Nova Esperança, Da Silva begins to help Max Payne in his quest for truth. While remaining mysterious and secret, Da Silva provides information for Max Payne about his leads and findings into the kidnapping conspiracy. The two reveal a conspiracy that involved kidnapping innocent civillians in the Favelas, harvesting their organs and selling them on the black market for large amounts of money.
Together, Wilson and Max find out that the mastermind behind this grim kidnapping  conspiracy is Senator Victor Branco, one of Max's former bosses, and the true man behind the actions of the UFE.
The two were able to finally finish off the UFE during Victor's attempt to flee from the city by plane. As Max defeats Becker at the airport, and takes his grenade launcher, Wilson arrives in his car to pick up Max and tail Branco's plane, allowing Max to destroy the plane with Becker's grenade launcher, which caused the plane to crash. Victor survived the crash, mocking Max in a last stand attempt at regaining his ego. Max wanted to kill Victor, yet Da Silva warned against it, instead asking Max to spare him and allow Victor to get a fair trial. Victor insisted that he would walk free, to which Max responded with breaking Victor's leg out of anger and revenge for everything he was put through.
Biography
Edit
Early life
Edit
Much of Da Silva's life prior to the organs harvesting scandal is unknown. At some point he joined the police force in Sao Paulo. He developed a strong, antagonistic approach towards Armando Becker and his UFE unit, most likely due to their harsh and relentless methods, which is not in compliance with a 'good cop' ethical code that Wilson has. It is also known that he is a family man, as he said to Max that he has a wife and children.
During his time at the police force, Da Silva has begun to investigate various gangs in Sao Paulo, like the Comando Sombra (CS) and the Crachá Preto, as well as keeping an eye at the U.F.E. and Becker.
Branco party shootout
Edit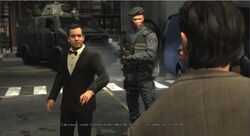 By 2012, Wilson has became a friend of the Branco family, and often appeared at their parties. During one party in 2012, the Comando Sombra attack the party and try to kidnapp Rodrigo Branco and his wife, Fabiana. After Branco's bodyguard, Max Payne, saves the couple, Becker and his men arrive and executes the remeining CS members. Wilson soon arrives and stops the UFE, as he was hoping to capture and interrogate one of the CS members. Da Silva manages to find one wounded gangster and tries to keep him alive until the paramedics come in.
Meeting and aiding Max Payne
Edit
"You're in the jungle now."
―Da Silva to Max, at the strip club.
After the party incident, Wilson takes interest in Max Payne. After the successful kidnapping of Fabiana by the CS, Wilson finds out that she was taken to the Nova Esperança favela, the CS' turf, and so does Max, who enters the favela in hopes of getting Fabiana back, even if it meant clashing with the local ganglife.
Wilson himself stays at a strip club. When Max enters the club, Wilson approaches Max and asks him if he wants a drink, leaving Max wondering who Wilson was, since the two were never personally introduced. As the two talk, Wilson reveals more about Victor Branco, one of Max's employers. Wilson reveals more about the Crachá Preto, and their connection with Victor, as well cynically reveals that he knows about Max's failed attempt to save Rodrigo Branco from death. He tells Max that the Commando Sombra and Cracha Preto, as well as Victor Branco are all connected somehow, and notes that he will likely be killed once he connects the dots. Before leaving Max, Wilson gives him an M1911, and tells him the location of Fabiana - the top fortress in Nova Esperança.
After Max has rescues Giovanna Taveres, Fabiana's sister, but remains left behind by his friend and partner in arms, Raul Passos, Wilson arrives at the scene and takes Max to a nearby parking lot, where he chats with Max about the events that unfolded while Max did a protection job in Panama, and Raul's work for Victor, marking Raul as a potential traitor and an accomplice in the kidnapping conspiracy, which Max eventually believed.
War with the Crachá Preto and the UFE
Edit
After the conversation in the parking lot, Wilson asks Max to check something; a bus drove off captives, but the captives where not booked. Max reveals the connection of between the Crachá Preto and the Unidade de Forças Especiais. Wilson then asks Max to check the Imperial Palace Hotel, where 'people go in, but not come out'.
At the hotel, Max finds out that the Crachá Preto and the UFE deal and sell human organs. After defeating the gang, and killing the leader Alvaro Neves, thanks to Passos, Wilson and Max plan their final attack on the UFE.
After saying goodbye to Passos and Giovanna, who left Sao Paulo, Wilson sends Max to destroy the UFE, and finds out about their plans.
Having killing most of the UFE officers in the base, including Becker's right-hand man Bachmeyer, Max confronts Becker, but is soon threatened by Victor, who escapes along with Becker.
Battle in the airport
Edit
As Becker and Victor have planned to escape the city, Wilson drives Max to the airport, where he battles against the UFE officers. After Max defeated/killed Becker, Wilson appears with his car and tells Max to get in, and the two chase Victor plane.
Wilson drives the car while Max cleans up the way with the grenade launcher he took from Becker, and manages to blow up Victor's plane. Victor survives the explosion relatively unharmed. Max approaches Victor and is seconds from killing him, but is stopped by Wilson, who wants Victor to be tried for his crimes, and thrown in prison. As Wilson tells Max this, Victor mocks them and says he knows he won't be convicted and will "walk". Max responds to this by breaking his shin and telling him he will "walk... with a limp". Soon Victor is taken to prison and found hanged in his cell, thus ending the organs harvesting scandal, while Max takes a vacation to Bahia. Wilson current whereabouts are unknown, though it is possibly that he still investigates remaining crimes.
Da Silva owns an M1911. While he never uses the handgun, he draw the gun after capturing Victor Branco. He also gives one to Max at the strip club.
Appearances
Edit